Food-Grade DE
Diatomaceous Earth is a fossilized deposit of microscopic shells created by one celled plants called Diatoms. These plants inhabit all the waters of the earth, and serve as the basic food for aquatic life, just as grass is the basic food for land animals.
Food-grade product
Mixing rate for animal feeds, in an amount not to exceed 2% by weight of total ration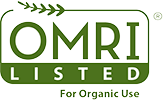 Discount applied. Offer ends soon.
Check Your Zone Compatibility:
Our Guarantee To You
Since 1976, we've served our customers at every stage of growing. Please contact us at any time. We are happy to support and assist you.
Description

Diatomaceous Earth is a fossilized deposit of microscopic shells created by one celled plants called Diatoms. These plants inhabit all the waters of the earth, and serve as the basic food for aquatic life, just as grass is the basic food for land animals.

Food-grade product
Mixing rate for animal feeds, in an amount not to exceed 2% by weight of total ration
Shipping Information

Ships from Northern CA.

Shipping Weight: 11.0 lb

Dimensions: 23.0"L x 15.0"W x 3.0"H
Characteristics

Organic Status:

Approved for Use in Certified Organic Agriculture
Share
View full details