For a Lush, Thick, Green Lawn
Bio-Turf is an entirely natural granular lawn fertilizer designed to provide a slow, steady release of nutrients and encourage deep root development to help reduce watering requirements. Bio-Turf's nitrogen-rich formula boosts early season growth while its extra potassium reduces seasonal stress due to temperature extremes and drought. Bio-Turf is also ideal for garden vegetables like corn, tomatoes and leafy greens.
Ingredients: Feather Meal, Meat and Bone Meal, Blood Meal, Langbeinite
Granular fertilizer with a slow and steady release of nutrients
Can also be used in the vegetable garden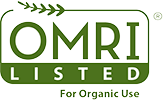 Discount applied. Offer ends soon.
Check Your Zone Compatibility:
Our Guarantee To You
Since 1976, we've served our customers at every stage of growing. Please contact us at any time. We are happy to support and assist you.
Description

Bio-Turf is an entirely natural granular lawn fertilizer designed to provide a slow, steady release of nutrients and encourage deep root development to help reduce watering requirements. Bio-Turf's nitrogen-rich formula boosts early season growth while its extra potassium reduces seasonal stress due to temperature extremes and drought. Bio-Turf is also ideal for garden vegetables like corn, tomatoes and leafy greens.

Ingredients: Feather Meal, Meat and Bone Meal, Blood Meal, Langbeinite
Granular fertilizer with a slow and steady release of nutrients
Can also be used in the vegetable garden
Shipping Information

Ships from Northern CA.

Shipping Weight: 25.5 lb

Dimensions: 9.5"L x 9.5"W x 14.5"H
Characteristics

Organic Status:

Approved for Use in Certified Organic Agriculture

Fertilizer Type : Powdered/Granulated/Meal

Major Nutrients : Over 4% Nitrogen

Nutrient Release Rate : Long-term (4+ Months)

Organic Certifier: OMRI, CDFA
Share
View full details