Feed Your Roses or Your Compost Pile
Derived from leguminous perennial alfalfa plant used for pasture and cover crop. Primary benefit of this pleasant smelling meal is increasing organic matter, although it is also a valuable plant-derived fertilizer.
Excellent addition to the compost pile for nitrogen content and absorbency.
Roses respond especially well to alfalfa meal. For new plantings of roses, mix 0.5 cup per plant into the soil.
For existing plants, mix 0.5-1 cup of alfalfa meal to a depth of 4"-6" around each rose bush.
For vegetables and flower beds, work in at 2-5 lbs/100 sq ft.
2.5% N, 0.5% P, 2.5%K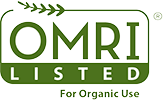 Discount applied. Offer ends soon.
Check Your Zone Compatibility:
Our Guarantee To You
Since 1976, we've served our customers at every stage of growing. Please contact us at any time. We are happy to support and assist you.
Description

Derived from leguminous perennial alfalfa plant used for pasture and cover crop. Primary benefit of this pleasant smelling meal is increasing organic matter, although it is also a valuable plant-derived fertilizer.

Excellent addition to the compost pile for nitrogen content and absorbency.
Roses respond especially well to alfalfa meal. For new plantings of roses, mix 0.5 cup per plant into the soil.
For existing plants, mix 0.5-1 cup of alfalfa meal to a depth of 4"-6" around each rose bush.
For vegetables and flower beds, work in at 2-5 lbs/100 sq ft.
2.5% N, 0.5% P, 2.5%K
Shipping Information

Ships from Northern CA.

Shipping Weight: 25.5 lb

Dimensions: 12.5"L x 12.5"W x 12.5"H
Characteristics

Organic Status:

Approved for Use in Certified Organic Agriculture

Biological & Humus : Boosts Microbial Activity

Biological & Humus : Humus or Humic Acids

Fertilizer Type : Powdered/Granulated/Meal

Major Nutrients : Calcium

Major Nutrients : Trace Minerals

Nutrient Release Rate : Short-term (1-4 Months)

Organic Certifier: OMRI, CDFA
Share
View full details