For Fast Calcium and Sulfur
State-of-the-art, high-purity (97%) mined gypsum has been screened (finer than 325 mesh) for use in agitating sprayers, drip, and sprinkler systems. Can be top or side dressed or mixed in soil mixes. High mobility and solubility keep calcium and sulfur levels near the soil surface and readily available to plant roots and soil microbes.
Use at lower rates (50-400 lb/acre) than non-soluble gypsum, but more frequently
For foliar rates use 1-10 lb/acre
Can be used for fertigation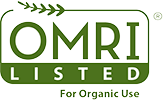 Discount applied. Offer ends soon.
Check Your Zone Compatibility:
Our Guarantee To You
Since 1976, we've served our customers at every stage of growing. Please contact us at any time. We are happy to support and assist you.
Description

State-of-the-art, high-purity (97%) mined gypsum has been screened (finer than 325 mesh) for use in agitating sprayers, drip, and sprinkler systems. Can be top or side dressed or mixed in soil mixes. High mobility and solubility keep calcium and sulfur levels near the soil surface and readily available to plant roots and soil microbes.

Use at lower rates (50-400 lb/acre) than non-soluble gypsum, but more frequently
For foliar rates use 1-10 lb/acre
Can be used for fertigation
Shipping Information

Ships from Northern CA.

Does not qualify for Flat Rate Shipping.

Shipping Weight: 51.0 lb

Dimensions: 9.5"L x 9.5"W x 14.5"H
Characteristics

Organic Status:

Approved for Use in Certified Organic Agriculture

Fertilizer Type : Water-Soluble

Major Nutrients : Calcium

Nutrient Release Rate : Immediate (0-1 Months)

Organic Certifier: OMRI, WSDA, CDFA
Share
View full details