For Correcting Boron Deficiencies
Boron is an essential micronutrient needed for plant development. Fertibor Boron, mined and purified boron, should be used in very small amounts (2-10 lb/acre) because it can become toxic to plants if over-applied.
Fertibor is a slow release, 15% boron for soil application.
Highly soluble
To calculate them amount of Fertibor required, multiply the elemental boron required by 6.6 (based on a soil test)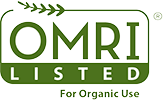 Discount applied. Offer ends soon.
Check Your Zone Compatibility:
Our Guarantee To You
Since 1976, we've served our customers at every stage of growing. Please contact us at any time. We are happy to support and assist you.
Description

Boron is an essential micronutrient needed for plant development. Fertibor Boron, mined and purified boron, should be used in very small amounts (2-10 lb/acre) because it can become toxic to plants if over-applied.

Fertibor is a slow release, 15% boron for soil application.
Highly soluble
To calculate them amount of Fertibor required, multiply the elemental boron required by 6.6 (based on a soil test)
Shipping Information

Ships from Northern CA.

Does not qualify for Flat Rate Shipping.

Shipping Weight: 51.0 lb

Dimensions: 21.0"L x 14.0"W x 4.0"H
Characteristics

Organic Status:

Approved for Use in Certified Organic Agriculture

Fertilizer Type : Powdered/Granulated/Meal

Major Nutrients : Trace Minerals

Nutrient Release Rate : Long-term (4+ Months)

Organic Certifier: OMRI, CDFA
Share
View full details