Treats a variety of diseases
A concentrate formula of copper soap fungicide to use on a wide variety of diseases.
Use on roses, fruits, vegetables and ornamental plants
Can be used up to the day of harvest
Active ingredient is Copper Octanoate (copper soap)-10.0%
Use for Powdery Mildew, Downy Mildew, Bacterial Leaf and Fruit Spots, Blights (Botrytis), Rust, Anthracnose, Gray Mold and Peach Leaf Curl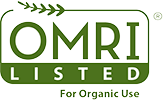 Discount applied. Offer ends soon.
Check Your Zone Compatibility:
Our Guarantee To You
Since 1976, we've served our customers at every stage of growing. Please contact us at any time. We are happy to support and assist you.
Description

A concentrate formula of copper soap fungicide to use on a wide variety of diseases.

Use on roses, fruits, vegetables and ornamental plants
Can be used up to the day of harvest
Active ingredient is Copper Octanoate (copper soap)-10.0%
Use for Powdery Mildew, Downy Mildew, Bacterial Leaf and Fruit Spots, Blights (Botrytis), Rust, Anthracnose, Gray Mold and Peach Leaf Curl
Shipping Information

Ships from Northern CA.

Cannot ship to the following states: AK, HI, NM

Shipping Weight: 2.0 lb

Dimensions: 7.0"L x 4.0"W x 2.0"H
Characteristics

Organic Status:

Approved for Use in Certified Organic Agriculture

Fungus & Disease Control : Anthracnose

Fungus & Disease Control : Bacterial Spot

Fungus & Disease Control : Botrytis

Fungus & Disease Control : Downy Mildew

Fungus & Disease Control : Early Blight

Fungus & Disease Control : Late Blight

Fungus & Disease Control : Leaf Spot

Fungus & Disease Control : Molds

Fungus & Disease Control : Peach Leaf Curl

Fungus & Disease Control : Powdery Mildew

Fungus & Disease Control : Rust
Share
View full details